---
The VSG is managed by a committee elected from the Membership.
The role of the committee is to:
set the strategic direction for the Group
oversee the annual programme of activities
represent the Group professionally at conferences and workshops
encourage partnership working with like-minded organisations within the UK and from overseas
meet four times a year to ensure the needs of Members are discussed and met
The committee comprises:
either a Chair and Deputy Chair or two Co-Chairs
four or five committee Members
Committee Members are appointed for three years, have full voting rights and are allocated a portfolio of work to ensure their time is best spent and their own skills set developed. They are elected by the membership.
A freelance post was created in 2012 to provide administrative support to the committee.
Chair: Beth Bryan
Barbican Futures Planning Officer (Audience Strategy) & Freelance Audience Research and Evaluation Consultant
Beth is currently supporting the organisational strategic change and leading on the Audience Strategy at the Barbican Centre in London. One of her current projects is to review data collection across the organisation. Her work has largely been connected to National Lottery Heritage Fund projects and Arts Council England NPO funding, but has wide reaching audiences and research purposes across the spectrum. Beth holds a B.A. in History with a minor in Classical Civilisations from the University of Michigan and a M.A. in Museum Studies from UCL. 
---
Deputy Chair and Treasurer:

Ellen Stuart
Public Participation and Engagement Manager for the Scottish Covid-19 Inquiry
Ellen is currently working for the Scottish Covid-19 Inquiry as a Public Participation and Engagement Manager, following nine years at the Museum of London, carrying out audience analysis, front-end and summative evaluation, developing engagement strategies for the new London Museum, plus a stint in marketing. She holds a BA in History from Durham University, an MA in Heritage Education and Interpretation from the University of Newcastle, and the MRS Advanced Certificate in Market and Social Research Practice. Her professional interests include deliberative methods, consultative panels and inclusive research design. Ellen lives in Scotland.
---
Conference Lead: Ogo Okafor
Audience Insights Manager, Southbank Centre
Ogo is the Audience Insights Manager at the  Southbank Centre. Her work includes using a mix of quantitative and qualitative methods to understand who their audiences are. She is engaged in long term research projects such as analysing new audiences, mapping against public datasets and collaborating with industry peers to establish best practices for asking for sensitive information in surveys. Previously she has been an arts marketer, developing and executing campaigns for the Southbank Centre, the Museum of London, Film Africa and Africa Writes. She has a Law LLB (Hons) from Keele University and an IDM Professional Diploma in Direct and Digital Marketing.
---
Networking and Events Lead: Josie Wood
---
---
Communications Lead: Carol Chung (Vacant Nov 2023)
Research Support Officer based at the Science Museum, London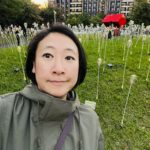 Carol is Research Support Officer based at the Science Museum, London. She is responsible for developing budgets for research grants and managing post-award project finance and reporting. She is the key contact for the research events programme, liaising with external and internal stakeholders to deliver research events. Carol is also Project Manager for AHRC project Congruence Engine, which explores digital linkages across national collections. Carol is a UCL-trained museum researcher specialising in audience research and museum learning and is experienced in managing international cultural projects and developing research in East Asian museum context. She has successfully delivered two AHRC projects on UK-China cultural collaboration. Carol will be Co-Investigator for a new project 'Communicating Time and Culture: Championing a global perspective in science and technology through public engagement', starting in May 2023.
---
Conference Support: Kitty Yiu
Kitty is a recent graduate of MA Museum Studies in United College London. She has finished her dissertation which involved an audience research at the National Railway Museum, exploring the potential for learning in museum open storage. She is an early career audience researcher with a wealth of experience in different fields – media, education and culture. Previously she worked with a small team to develop a site-wide interpretation for the Canons House and Grounds Project. She assisted in evaluation sessions with the local community and people with disabilities. Kitty also developed an exhibition which is currently on display in the Leventis Gallery, UCL. She led the Audience Research Team to carry out both front-end and formative evaluations to inform the development of the exhibition's content and design. Kitty specifically focuses on qualitative research with a mixture of methods, including focused discussions, interviews, observations and accompanied visits.
---
Conference Support: Vacant
---
Networking and Events Support: Vacant x 2
---
Communications Support: Vacant x 2
---
Committee Member: Jenny Ruddock (Maternity Leave)
Audience Development and Insights Manager in the Chamber and Participation team at UK Parliament
Jenny is the Audience Development and Insights Manager in the Chamber and Participation Team at UK Parliament. Her role involves looking at audience data, insights and targeting across Participation's apolitical role in encouraging democratic engagement, including school visits, community outreach, public tours and events.  Her previous role was in the audience insights at St Paul's Cathedral, working on broadening their secular audiences and improving their evaluation and monitoring. She has also spent several years as a Grants Manager working on London-based projects at the National Lottery Heritage Fund, and prior to this worked in heritage learning, with an MA  in Museum Studies from Leicester.
---
Group Administrator:  Lucy Moriarty
Lucy is the Visitor Studies Group Administrator. She is also Community Action Manager at Gloucestershire Wildlife Trust. She holds a BA in History and an MA in Socially Engaged Practice in Museums and Galleries. She works half a day per week for VSG, and all emails sent to the.visitor.studies.group@gmail.com reach her inbox.